January 19 @ 9:30 am

-

2:30 pm
About this event
Please Note: The Removing the Barriers Training will transpire virtually, due to COVID-19 Pandemic precautions. A Zoom Link will be emailed to all registered participants on the training week. Please contact 2SLGBTQ+ Training and Capacity Building Coordinator, Winson Wong, for further inquiries or information. Their email contact is: winsonw@moyohcs.ca
The Removing the Barriers 2SLGBTQ+ Inclusionary will provide participants a breadth of 2SLGBTQ+ knowledge—of terminologies, frameworks, and contexts. This training will allow participants the opportunity to exercise, and brainstorm, necessary capacities for supportive allyship of the 2SLGBTQ+ Community—like gauging with perspective, and promoting curiosity and questions.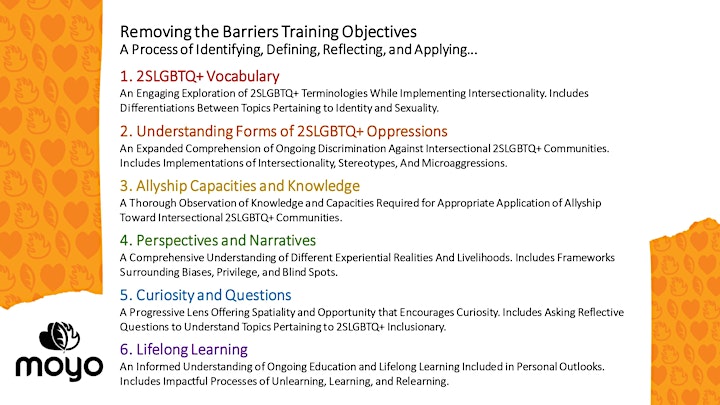 The Removing the Barriers Health Equity and Capacity is an all-new addition to the Removing the Barriers Training Program! Providing knowledge on sexually transmitted and blood borne infections—otherwise known as STBBIs—and their transmission preventative methods, this training allows for applicable, and introductory, clinical explorations that orbit the capacities in Removing the Barriers 2SLGBTQ+ Inclusionary.
Please Note: This is an optional training requested individually. Please contact 2SLGBTQ+ Training and Capacity Coordinator Winson Wong to schedule accordingly.